AUSTRALIAN SUPPLEMENTS FORMULATED TO HELP YOU LOOK, FEEL AND PERFORM AT YOUR BEST, NATURALLY.
Head of fashion
Scott
Scott has been in the fitness industry for over a decade and now combines his passion for fitness and fashion to create cutting-edge athletic/street wear that empowers you to look and perform your best. As an avid fitness enthusiast himself, Scott understands the importance of performance-driven clothing and known for his keen eye for detail and attention to functionality, Scott has developed a reputation for designing athletic wear that seamlessly merges fashion and fitness. His designs feature advanced fabric technologies, complete custom designs and fits and thoughtful details that optimise comfort, durability, and performance.
Head of nutrition
ELLE
Elle has been dedicated to the health and fitness industry since 2014. As a qualified personal trainer and mother of two, she understands the importance of healthy eating and values scientifically backed formulations that deliver real results. Elle works closely with clinical nutritionists and naturopaths to develop FWD FRM products that are designed for performance and optimal wellbeing. She believes that living a healthy lifestyle is about balance, and that nutrition, movement, and mindset all play a critical role in achieving optimal wellbeing. With over a decade of experience in the health and fitness industry, Elle is a trusted expert who is passionate about helping others to live their best lives through the power of nutrition and fitness.
Blog posts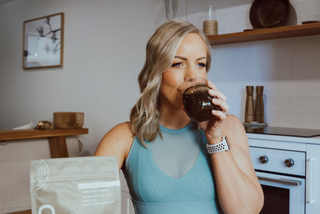 Life can be a whirlwind, right? We get it! But here at FWD FRM, we're all about keeping things lively and healthy. So, buckle...
Meet FWD FORM's Ambassador, Brenton Parkes. Australian actor, business owner and down to earth family man, Brenton shares what a normal day looks like as well as what 'Motivated by the...